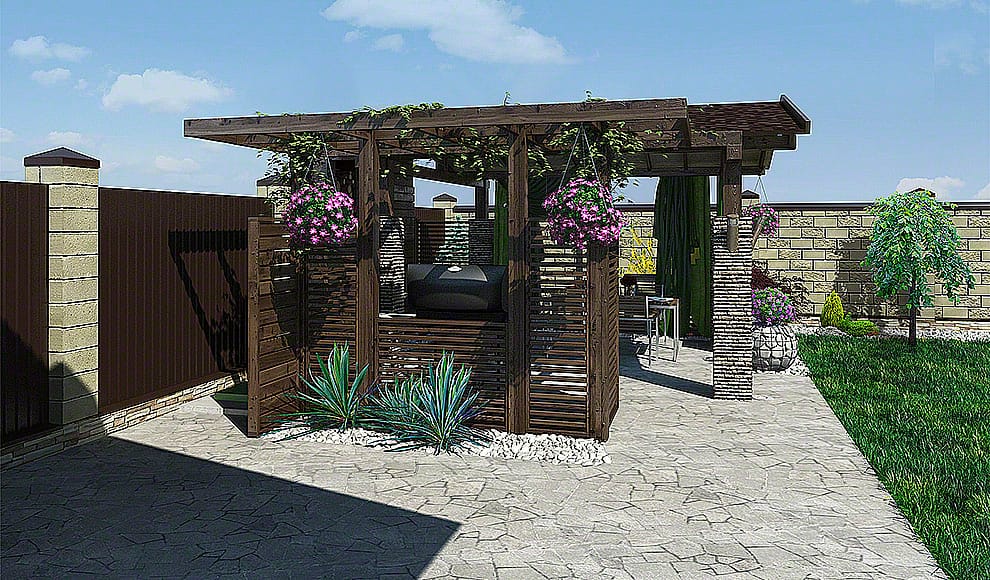 Read Time:
3 Minute, 38 Second
No material is durable enough to be free from maintenance forever. Same goes with flagstone as well. A well-maintained flagstone patio will last for years. Also, if you are looking to get a new flagstone patio made, you should ask your Pergolas builder about the recommended care for your flagstone patio.
If you already have a flagstone patio in your house, you should know about all the important and effective steps to well maintain the patio.
Proper Sealing
Pollutants in the water that's spilt on your flagstone can cause it to develop stains over time. This is more likely to happen if you often cook on your patio. You can avoid stains by sealing the flagstone patio right after it is made.
The sealing material you use to seal your flagstone patio will fill the pores in the stone and keep it safe from spills. However, you should avoid using shiny sealers as they can cause the flagstone to lose its natural beauty and looks.
Your best bet is using an acrylic sealer with a matte finish. This sealer will provide complete resistance from water and other chemicals. You should also keep checking and reapplying the sealer every year to help keep the patio in good shape.
Proper Cleaning
Your flagstone paving should be properly sealed, and you should keep it clean by regularly sweeping it. Sweeping will help you clean the patio from tree debris and loose dirt. These materials can cause the patio to develop stains and lose its shine if they stay on the patio for too long. If there are stains on the flagstone patio that you need to clean, you can use bleach diluted with water. There are also many stain cleaners developed specifically for flagstone patio which you can buy from the market.
Water is the safest thing to clean your patio with, and any other type of chemical used to clean the patio should be rinsed off of the patio as soon as possible. However, if there are lots of stains that need cleaning, you can also hire a professional patio cleaning company for the task.
Flagstone Patio Repair
The fact that a flagstone patio is made by connecting small pieces provides you with great convenience. So, if any single one of the stones is cracked, stained or scratched, you can replace that particular stone instead of caring about all of the patio.
Any problem with the flagstone patio including broken stones, mortar or any other issue can be easily removed by picking up the stone and resolving the issue.
Keep The Patio Away From Water
While flagstone doesn't get damaged from exposure to water, it can however become discolored. Water puddled on the patio can cause mold to grow, which can then cause mineral buildup, and the whole patio can get affected this way. This way, your patio can become discolored, and can lose its natural color and beauty. If you have a poolside patio, choose brick, concrete or some other stone.
You should keep excess water away from your flagstone patio, and should clean the patio regularly to keep it dry and shining like a new patio.
Usual Flagstone Repairs
No matter how much you care for your flagstone patio and keep it clean, it can still become damaged with time. One of the most commonly needed repairs of flagstone patio are of broken or chipped stones.
If your flagstone patio has some broken stones, you should hire an expert to do the repair professionally without affecting other parts of the patio. Taking timely action can prevent the flagstone patio from breaking down quickly, and you'll get years of service from your patio after making the initial payment. If you look carefully, you'll find lots of flagstone repair experts with years of experience. You should hire such experts to repair your patio.
Final Word
Patios, and specifically flagstone patios aren't cheap to make. So, if you have invested your money to get a good-looking patio made, you shouldn't hesitate while spending a bit money to maintain it as well. Properly maintaining your flagstone patio will keep its value intact, and you'll get better offers when selling your house. That's why proper maintenance of flagstone patio is so important. If necessary, hire pergolas builder Port Jefferson for repairs or upgrades.